The inside of the base is painted with a full-length figure of a goddess.

The lid again shows Nes-mut-aat-neru's face, wig and elaborate collar. Here too the scarab beetle with outstretched wings hovers over the mummy. Below the scarab look for a small scene showing the deceased Nes-mut-aat-neru worshipping a god, and a two-column inscription.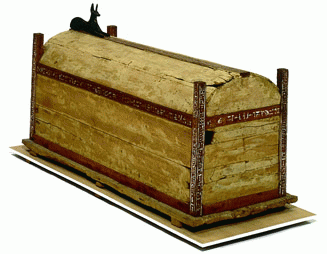 Finally the mummy and coffins were placed in a rectangular outermost coffin made primarily out of sycamore wood. The posts of the coffin are inscribed with religious texts. On the top of the coffin sits an alert jackal, probably a reference to Anubis, the jackal-headed god who was the patron of embalmers and protector of cemeteries.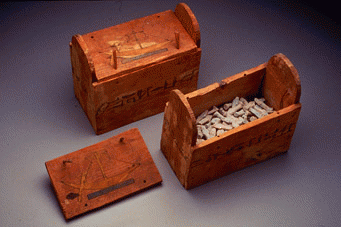 These two wooden boxes filled with mud shawabti figures were found with Nes-mut-aat-neru's elaborate nested coffins. Shawabti figures were molded in the shape of a mummified person, and were designed to do any work that the gods asked the deceased's spirit to do in the afterworld.
– Exploring Ancient Egypt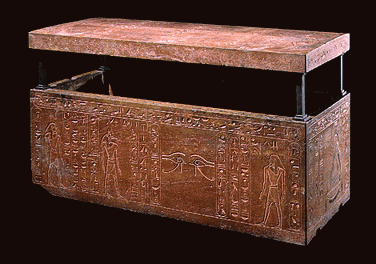 Stone Coffin – Sarcophagus


BURIAL MASKS
Masks were a very important aspect of Ancient Egyptian burials. In common with the anthropoid coffin they provided the dead with a face in the afterlife. In addition they also enabled the spirit to recognize the body.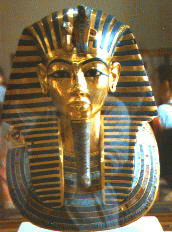 As well as the famous golden mask of Tutankhamun
and the less well known solid gold mask of Psusennes.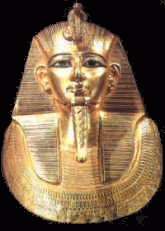 ---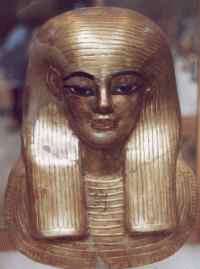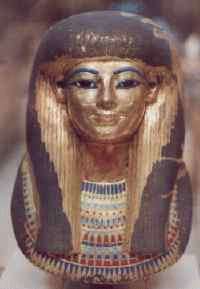 Tjuyu and Yuya – Parents of Queen Tiy – Mother of Akhnaton.