Some of the 11th-century versions shown in the Bayeux tapestry have their masts supported by shrouds, implying that their square sails could be manipulated enough to sail with the wind abeam.
The introduction of the stern rudder in about 1200 led to the differentiation of bow and stern and the transformation of the longship.
---
LEIF ERIKSSON – THE LUCKY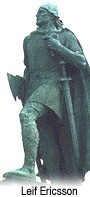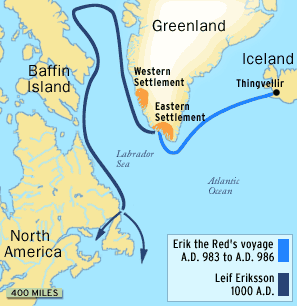 Leif Eriksson The Lucky, fl. 11th century Eriksson also spelled ERICSON, OR ERIKSON, Norwegian LEIV ERIKSSON DEN HEPNE, Norse explorer widely held to have been the first European to reach the shores of North America.
Leif Erikson was probably the first European to set foot in the New World, opening a new land rich with resources for the Vikings to explore. But for some unknown reason, the Vikings only made a few voyages to the New World after Leif. Unfortunately, this caused his discovery to remain unknown to nearly all of Europe, which was in the midst of the Crusades.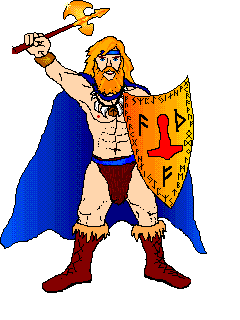 Leif was born in Iceland in about 960 AD, son of Eric the Red. As was tradition with the Vikings, Leif did not grow up with his family. Instead, when he was eight he moved in with a man named Thyrker. Thyrker was from Germany where Eric the Red had captured him, had taken him to Iceland, but had not enslaved him. Thyrker taught Leif everything he needed to know, including reading and writing runes, the Celtic and Russian tongue, and the ways of trade. Leif was also taught the old sagas, plant studies, and the use of weapons. When Leif was not learning he and his friends would watch the ships come into the harbor; then he would listen to the tales of the sailors.
At 12, Leif was considered a man and traveled back to his father's house. Eric's house had grown since Leif had left. The herds had multiplied and there were new houses and more slaves. The spring after Leif arrived, Eric was summoned to Reykjavik or lawmaking assembly. Eric took Leif along with him to the Thing. The next day, among the crowds, Eric met a man with whom he was feuding. They started to fight and Eric killed the other man. Because of this, the Thing council banished Eric from Iceland for three years.
Eric, not being able to go to Norway (he had previously banished from there too) decided to investigate rumors of lands to the west. So, Eric took his wife and kids, some slaves, and ample supplies and traveled west. A few days later they landed on a new land, which he named Greenland and started to build a camp. It was on this voyage that Leif is believed to have learned how to be a good deep-sea sailor.
For the years Eric spent on Greenland during his banishment, he explored the new land and taught Leif many things. After three years, Eric traveled back to Iceland and told the people about Greenland. Many people decided to return to Greenland with Eric and his family because times had not been good in Iceland. There had been a famine, the lands were overgrazed, and there were almost no trees left.
Leif was probably 15 to 17 when he was out and saw a young polar bear on an ice flow. He decided to capture the bear but there was a strong current between the ice flow and land. So using his knowledge of the sea, he went "upstream" from the polar bear and let the current carry his boat into the ice flow. After capturing the bear he used the same tactic to get back to land, impressing the people on shore.
One day, when Leif was watching the boats, he saw an old tattered ship rowing very slowly. Leif became very exited because he recognized this ship as belonging to Bjarni Hergelfson, who had been gone over a year. After the ship landed, Leif followed Bjarni into a hall where Bjarni told the story of how mist had covered the North Star so they couldn't navigate. They sailed for many days and finally spotted land, but it wasn't Greenland, where they had been heading. Glaciers did not cover the coast they had seen, but instead it was green with trees.
They did not go ashore though, because they wanted to get to Greenland. They kept sailing and found another land. This one was flat and forest covered, but they did not land there either. They had to get back to Greenland.
At the age of 24, Leif was asked to captain his first voyage. This was to bring gifts to King Olaf in Norway. Many preparations were made and Leif was very excited. Leif took along a crew of 14 and Thyrker.
The wind Leif was sailing on was fair at the beginning, but after their first day it slowed only to a gentle breeze. It was five days before they sighted Iceland. Most voyages make it in two. The crew wanted to go ashore but Leif would not let them, so they kept sailing. They sailed for many days and Leif thought they would run out of food. Finally they sighted some small islands, the Hebrides, they realized they had sailed farther south than they had intended.
The day they arrived, a storm came in and didn't allow them to leave for a month. During this time Leif stayed in the house of the lord of the island. There lived the lord's daughter who was named Thorgunna. She was known to embroider tapestries and was believed to be learned in witchcraft.
Before Leif left for Norway, Thorgunna told him she was going to have his baby and she foresaw that it would be a boy. She had her child and named him Thorgils. Later he traveled to Greenland and Leif accepted him as his son. This is the only child known to be Leif's.
When the storm had cleared, Leif set off for Norway. The wind was good and they got there in a few days.