Yet another possibility is that one of Akhenaten's many sisters was the mother of Smenkhkare. Because Smenkhkare appeared at the same time that Nefertiti seemingly vanished from view, and because he shared the title "Beloved of Akhenaten" with Nefertiti, some scholars believe that Nefertiti and Smenkhkare were one and the same. Nefertiti did have more power than many of the other queens in Egypt, and is often depicted wearing certain crowns that were normally reserved for kings. Thus, it is perhaps not too out of line to think that she might have disguised herself as a man and shared kingship with Akhenaten. However, Redford notes that, for one thing, it would be odd even for the Amarna family to have Nefertiti posing as a man and marrying her own daughter. Not only that, but to deny the existence of Smenkhkare, one would have to ignore one major finding: the body in Tomb 55.
Tutankhaten came to the throne when he was about eight years old and became known as "The boy king" by modern people. He became quite famous when his tomb was discovered by Howard Carter in the 1920s. Tutankhaten succeeded Akhenaten and Smenkhkare and was married to Akhenaten's daughter Ankhesenpaaten. Th couple soon changed their names to Tutankhamen and Ankhesenamun, moved away from Akhetaten, and reestablished the old religion. Tutankhaten reigned until he was about eighteen when he died.
Tutankhaten's origins are just as hazy as Smenkhkare's. Some would claim that he was Kiya's son by Akhenaten. However, if Tutankhaten and Smenkhkare were really brothers, as the bodies of the two suggest, then this would again bring up the question of the likelihood of Smenkhkare being Akhenaten's son.
One theory is that Tutankhaten was Akhenaten's brother. That would lead to the conclusion that both Smenkhkare and Tutankhaten were sons of queen Tiye.They both bear a strong resemblance to certain portraits of Tiye, but Tiye may have been too old to have children by the time Tutankhaten was born. Another problem is that Amenhotep III was, in all probability, well dead by this time, although there is much speculation about a co-regency between Akhenaten and his father.
One intriguing discovery is an inscription which calls Tutankhaten "The king's son, of his loins". This could be interpreted in a number of ways. One is that Tutankhaten really was Akhenaten's child. However, this possibility has already been mostly ruled out. Another possibility is that Amenhotep III remained virile and active even in his last years and was able to father Tutankhaten just before he died (assuming that there was a co-regency).
Yet a third possibility is that Tutankhaten was Smenkhkare's son. If Smenkhkare fathered Tutankhaten the same year that he married Merytaten, and then went on to outlive Akhenaten by about three years, then that would make Tutankhaten just barely seven when he came to the throne of Egypt (Tutankhaten was thought to have come to the throne when he was eight or nine).
In 1332 BC Akhenaten died, the circumstances never explained. His memory and all that he had created soon to erased from history not to be found for centuries later.


AKHENATEN ROYAL TOMB IN AMARNA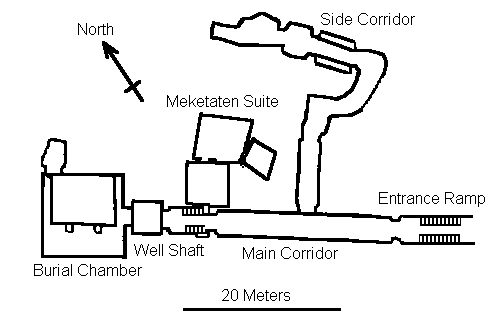 In 1344 BC the building of the Royal Tomb at Akhetaten began. It was completed while Akhenaten was pharaoh.
The Royal Tomb of Akhenaten was very similar to a 'standard' tomb found in the Valley of the Kings – a straight forward design of corridors and rooms along a single axis, but this tomb was to change with the addition of two more separate suites of rooms:
Research at the Royal Tomb has given evidence that Akhenaten was buried in a pink granite sarcophagus – although both this and the remains of another sarcophagus found at the tomb, were smashed to pieces and then scattered over some distance.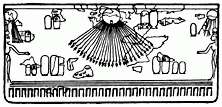 Akhenaten's Sarcophagus
However enough of Akhenaten's sarcophagus has been recovered to reconstruct it, the corners had figures of Queen Nefertiti extending protective arms like the guardian of the four quarters.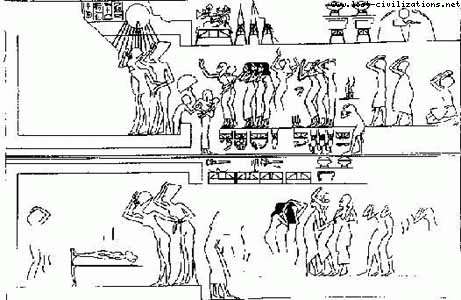 Royal Tomb at Amarna: Akhenaten and Nefertiti grieve over daughter
Drawing of Relief (N. Davies, The Rock Tombs of el-Amrna, 1903-08)


TOMB 55 IN THE VALLEY OF THE KINGS
Of all the royal mummies ever discovered none has ever caused more controversy then the one found in tomb 55 of the Valley of the Kings.
At the beginning of the 20th Century, Theodore Davis, a wealthy American excavating in Egypt, discovered a tomb in which a burial from the Armana period had been reinterred. This tomb was clearly unfinished, and the burial a hasty one. Gilded wooden inlay panels on the floor and against the wall. They bore the damaged image of Akhenaten worshiping the sun disc and the name of Queen Tiy.
In a niche were four beautiful alabaster jars that held the internal organs of the mummies.